Share This On Facebook:
1. To Submit or Update your College, Select the "Submit College" button below.
2. To "Claim Your College", Select the "Claim UR College" graphic button.
3. Use the Comments Form below to interact with other Facebook users about your college.
Current as of 2018/01/23


Colleges in the State of Maine
Scholarship Opportunity: Amount: POC: Phone:
---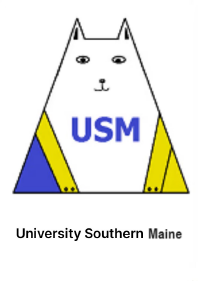 Is your college university using CertificationPoint to assist students in obtaining real world work projects to build skills while in college, yet?

School Name: University of Southern Maine
School POC: Not Available
About This School: The University of Southern Maine (USM) is a multi-campus public urban comprehensive university and part of the University of Maine System. USM's three primary campuses are located in Portland, Gorham and Lewiston in the U.S. state of Maine. Originally founded as two separate universities (Gorham Normal School, University of Maine at Portland), the two state universities were combined in 1970 to help streamline the public university system in Maine and eventually expanded by adding the Lewiston campus in 1988. The Portland Campus is home to the Edmund Muskie School of Public Service along with the Bio Sciences Research Institute, the University of Maine School of Law, the Osher Lifelong Learning Institute and the Osher Map Library, and the USM School of Business. The USM School of Business is accredited by the Association to Advance Collegiate Schools of Business (AACSB). Less than 5% of business schools worldwide have earned this achievement. The Gorham campus, much more residential, is home to the College of Education and the School of Music.

School Statistics:

0 0 0

0 0 0

0 0 0

0 0 0
Note: Use the registration button below or click the "Claim UR College" button to register.
School Member Registration:



School Reviews:

Most Recent Change: No Recent Content Updates Submitted
---
---
Comments:
Use a
Facebook account
to add a comment, subject to Facebook's
Terms of Service
and
Privacy Policy
. Your Facebook name, photo & other personal information you make public on Facebook will appear with your comment, and may be used on CertificationPoint's media platforms.
Learn more
.
Comment On The Project/Inquire from Contacts:
---
Want More Program Insight?
MORE ON COLLEGE STUDENT ENTREPRENEURSHIP
More On Investment Opportunities
ALASKA / ALABAMA / ARIZONA / ARKANSAS / CALIFORNIA / COLORADO / CONNECTICUT /
DELAWARE / FLORIDA / GEORGIA / HAWAII / IDAHO / ILLINOIS / INDIANA / IOWA / KANSAS /
KENTUCKY / LOUISIANA / MAINE / MARYLAND / MASSACHUSETTS / MICHIGAN / MINNESOTA /
MISSISSIPPI / MISSOURI / MONTANA / NEBRASKA / NEVADA / NEW HAMPSHIRE / NEW JERSEY /
NEW MEXICO / NEW YORK / NORTH CAROLINA / NORTH DAKOTA / OHIO / OKLAHOMA / OREGON /
PENNSYLVANIA / RHODE ISLAND / SOUTH CAROLINA / SOUTH DAKOTA / TENNESSEE / TEXAS /
UTAH / VERMONT / VIRGINIA / WASHINGTON / WEST VIRGINIA / WISCONSIN / WYOMING /