Share This On Facebook:
1. To Submit or Update your College, Select the "Submit College" button below.
2. To "Claim Your College", Select the "Claim UR College" graphic button.
3. Use the Comments Form below to interact with other Facebook users about your college.
Current as of 2018/01/23


Colleges in the State of South Dakota
Scholarship Opportunity: Amount: POC: Phone:
---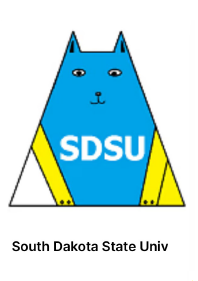 Is your college university using CertificationPoint to assist students in obtaining real world work projects to build skills while in college, yet?

School Name: South Dakota State University
School POC: Not Available
About This School: South Dakota State University is the largest university in the U.S. state of South Dakota, located in Brookings. A public land-grant university and sun grant college, founded under the provisions of the 1862 Morrill Act, SDSU offers programs of study required by, or harmonious to, this Act. In step with this land-grant heritage and mission, SDSU has a special focus on academic programs in agriculture, engineering, nursing, and pharmacy, as well as the liberal arts. The Carnegie Foundation for the Advancement of Teaching classifies SDSU as a Research University with high research activity. The graduate program is classified as Doctoral/Science, Technology, Engineering, Math dominant. SDSU is governed by the South Dakota Board of Regents, which governs the state's six public universities and two special schools.

School Statistics:

0 0 1

0 0 0

0 0 0

0 0 3
Note: Use the registration button below or click the "Claim UR College" button to register.
School Member Registration:



School Reviews:

Most Recent Change: No Recent Content Updates Submitted
---
---
Comments:
Use a
Facebook account
to add a comment, subject to Facebook's
Terms of Service
and
Privacy Policy
. Your Facebook name, photo & other personal information you make public on Facebook will appear with your comment, and may be used on CertificationPoint's media platforms.
Learn more
.
Comment On The Project/Inquire from Contacts:
---
Want More Program Insight?
MORE ON COLLEGE STUDENT ENTREPRENEURSHIP
More On Investment Opportunities
ALASKA / ALABAMA / ARIZONA / ARKANSAS / CALIFORNIA / COLORADO / CONNECTICUT /
DELAWARE / FLORIDA / GEORGIA / HAWAII / IDAHO / ILLINOIS / INDIANA / IOWA / KANSAS /
KENTUCKY / LOUISIANA / MAINE / MARYLAND / MASSACHUSETTS / MICHIGAN / MINNESOTA /
MISSISSIPPI / MISSOURI / MONTANA / NEBRASKA / NEVADA / NEW HAMPSHIRE / NEW JERSEY /
NEW MEXICO / NEW YORK / NORTH CAROLINA / NORTH DAKOTA / OHIO / OKLAHOMA / OREGON /
PENNSYLVANIA / RHODE ISLAND / SOUTH CAROLINA / SOUTH DAKOTA / TENNESSEE / TEXAS /
UTAH / VERMONT / VIRGINIA / WASHINGTON / WEST VIRGINIA / WISCONSIN / WYOMING /