Share This On Facebook:
1. To Submit or Update your College, Select the "Submit College" button below.
2. To "Claim Your College", Select the "Claim UR College" graphic button.
3. Use the Comments Form below to interact with other Facebook users about your college.
Current as of 2018/01/23


Colleges in the State of Vermont
Scholarship Opportunity: Amount: POC: Phone:
---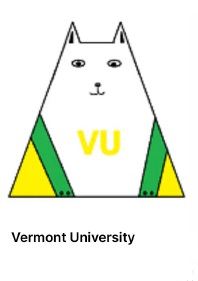 Is your college university using CertificationPoint to assist students in obtaining real world work projects to build skills while in college, yet?

School Name: University of Vermont
School POC: Not Available
About This School: The University of Vermont and State Agricultural College, more commonly known as the University of Vermont or UVM, is a public research university and, after 1862, the U.S. state of Vermont's land-grant university. The University is commonly known as "UVM," an abbreviation of its Latin name, Universitas Viridis Montis (University of the Green Mount). UVM is one of the original eight Public Ivies.Founded in 1791, UVM is the 23rd college founded in the United States and was the fifth college established in New England.

School Statistics:

0 0 2

0 0 0

0 0 0

0 0 0
Note: Use the registration button below or click the "Claim UR College" button to register.
School Member Registration:



School Reviews:

Most Recent Change: No Recent Content Updates Submitted
---
---
Comments:
Use a
Facebook account
to add a comment, subject to Facebook's
Terms of Service
and
Privacy Policy
. Your Facebook name, photo & other personal information you make public on Facebook will appear with your comment, and may be used on CertificationPoint's media platforms.
Learn more
.
Comment On The Project/Inquire from Contacts:
---
Want More Program Insight?
MORE ON COLLEGE STUDENT ENTREPRENEURSHIP
More On Investment Opportunities
ALASKA / ALABAMA / ARIZONA / ARKANSAS / CALIFORNIA / COLORADO / CONNECTICUT /
DELAWARE / FLORIDA / GEORGIA / HAWAII / IDAHO / ILLINOIS / INDIANA / IOWA / KANSAS /
KENTUCKY / LOUISIANA / MAINE / MARYLAND / MASSACHUSETTS / MICHIGAN / MINNESOTA /
MISSISSIPPI / MISSOURI / MONTANA / NEBRASKA / NEVADA / NEW HAMPSHIRE / NEW JERSEY /
NEW MEXICO / NEW YORK / NORTH CAROLINA / NORTH DAKOTA / OHIO / OKLAHOMA / OREGON /
PENNSYLVANIA / RHODE ISLAND / SOUTH CAROLINA / SOUTH DAKOTA / TENNESSEE / TEXAS /
UTAH / VERMONT / VIRGINIA / WASHINGTON / WEST VIRGINIA / WISCONSIN / WYOMING /